Renovated Pokiddo AP Sports Center in Wenzhou
AP Sports Center is a co-brand by Pokiddo and Miao Miao Le. Pokiddo is a trampoline park manufacturer and franchise brand, while Miao Miao Le is a franchise brand of kids soft play. The AP Sports Center in Mifang Creative Zone, Wenzhou is the beginning of our cooperation, which can be traced back to 2018 when trampoline park was booming in China. Due to the popularity of trampoline park among teenagers and young people, the AP in Mifang turned out to be a great success and professional operation made the park a long-term business with good revenue.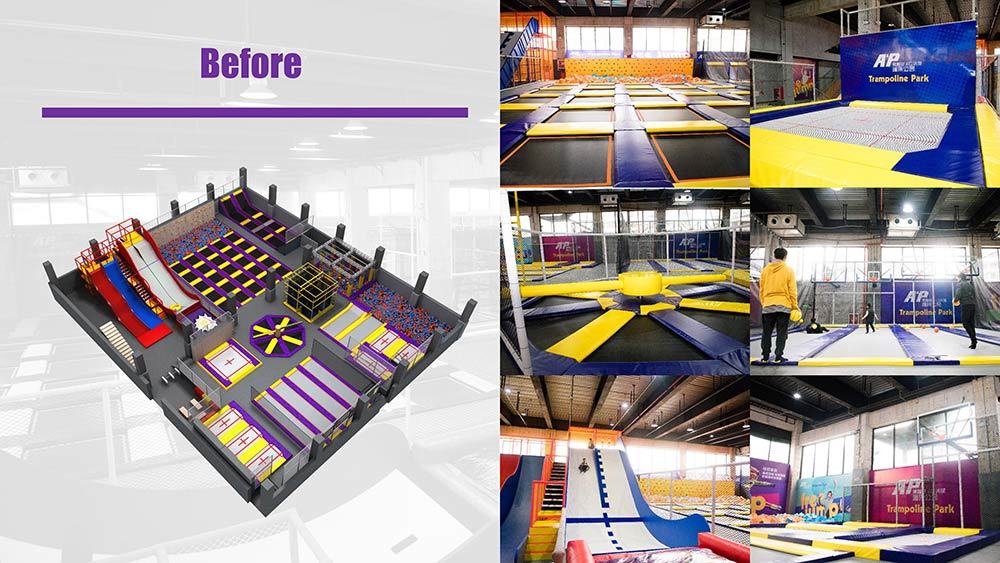 In this year, we decided to upgrade the park to meet new customers' needs and make our park more competitive among the market. We put great efforts in Park Positioning, Layout Plan, 3D design and Interior Design. After the construction finished, it's like 'dream' coming true when you look back at the designs. Today Oct. 13th, 2021, we are having the grand reopening. Let's take a look at the design and photos of the renovated AP Sports Center to find out the new fun attractions included.
When you see the AP Sports Center design in 2018, you will find that 80-90 percent of the park are trampoline related attractions. It's mainly because trampoline park was quite popular at that time and many investors rushed to catch the trend . After three years of accumulated experience on park operation and thorough research on the new trends, we added a diversity of fun attractions in the park, including climbing walls, inflatable wipeout, ropes course (make use of the pillars and high ceiling), interactive basketball, interative balls fight, racing car video games, and more. You will find people are looking for entertainment park that will keep them engaged for longer with various fun games. It's the customer demand that drives the trampoline parks industry moving forward. To meet the trend or stand out from fierce competition, trampoline park owners should be keen about what attractions are popular on the market and keep updating your facilities to increase customers repetition.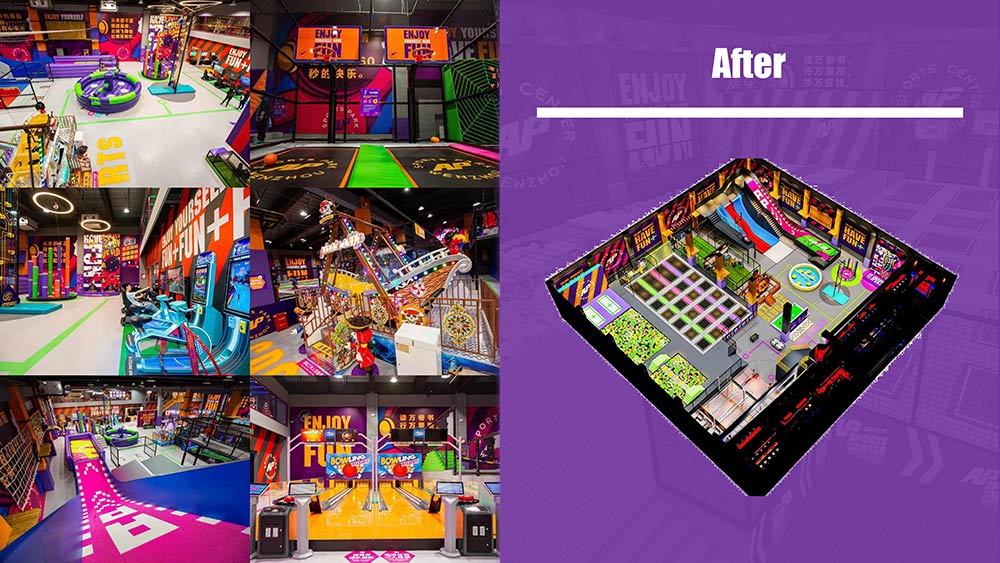 Pokiddo designer team offer professional service from cad layout plan to 3D designs of park equipment and interior design. When you check the design pictures and the real photos, you might be a little confused about which are designs and which are real. Our designers are expecting our clients to have extremely vivid ideas through their designs about how their parks would look like after construction. Let's take a glimpse of the designs and photos of the AP Sports Center in Mifang.