How to Design Your First Trampoline Park?
Right after you've created a detailed business plan, you can literally start to plan your trampoline park project. The process of trampoline park design is very important if you're expecting a successful business. You probably have your own creative ideas for the design, but you also need experts to make sure it meets the related safety standards and criteria. Almost all the trampoline parks are custom-made, if it's your first time into the business, you should need tips on how to design your first trampoline park.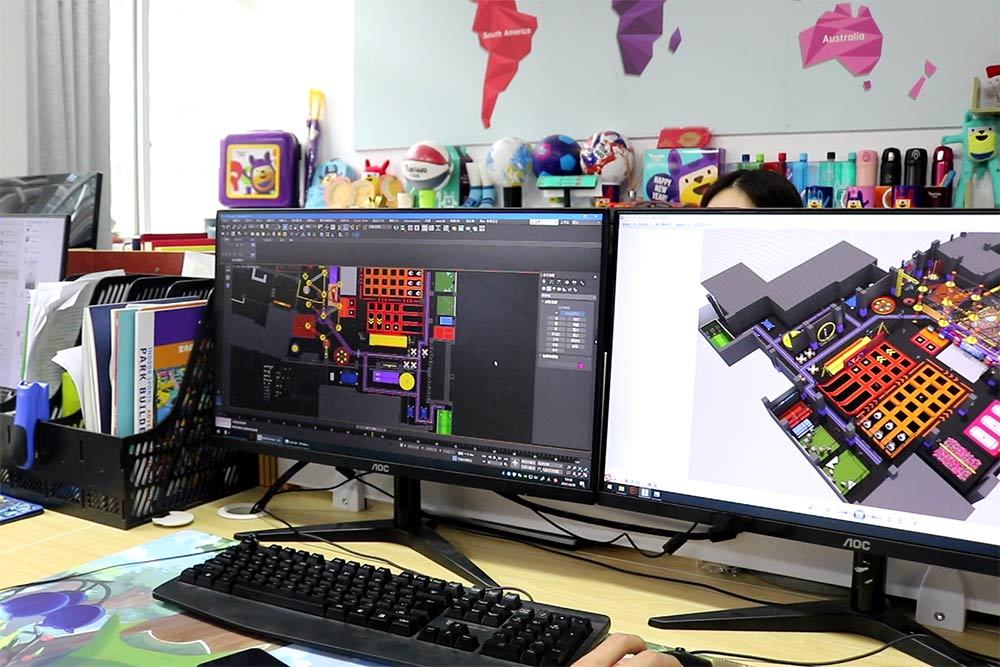 Why a bespoke trampoline park design?
Bespoke means custom-made, your trampoline park design should be unique. One's because the building space for your trampoline park is unique, a custom-made design is required to to fully utilize the space. The other's because trampoline parks now are more than a court of combined trampoline mats, you need to come up with a creative theme or concept. Any of your own ideas and suggestions are welcomed, and the designers will combine their expertise and your ideas to satisfy your needs while offering an unique, attractive, well-arranged, standard approved trampoline park design, which will make your park standard out from the potential competition.
Basics to know before designing a trampoline park
There are some basics about requirements for building you need to know before designing a trampoline park in case of any waste of time. You need to evaluate two crucial factors: the space size and ceiling height.
The bigger the space, the larger your future park visitors capacity, and of course the higher the cost of building a trampoline park. We recommend the building size for trampoline park to be between 11000 square feet (1021.9m2) and 35000 square feet(3251.6m2). of course the size can be down to 1000 square feet(92.9m2) if you're planning for a very small one.
For the ceiling height, as per the clause 7.1 Device Use Zone in the ASTM F2970 Standard, the device use zone shall comprise the area from the ground surface underneath the TC beds to 204 in. (518.16 cm) above the ground surface. If there's high performance trampoline (also called professional trampoline), the clear ceiling should be 6.2m.
Before getting into the design stage, make sure you're satisfied with the space size and the ceiling height can meet the safety standard.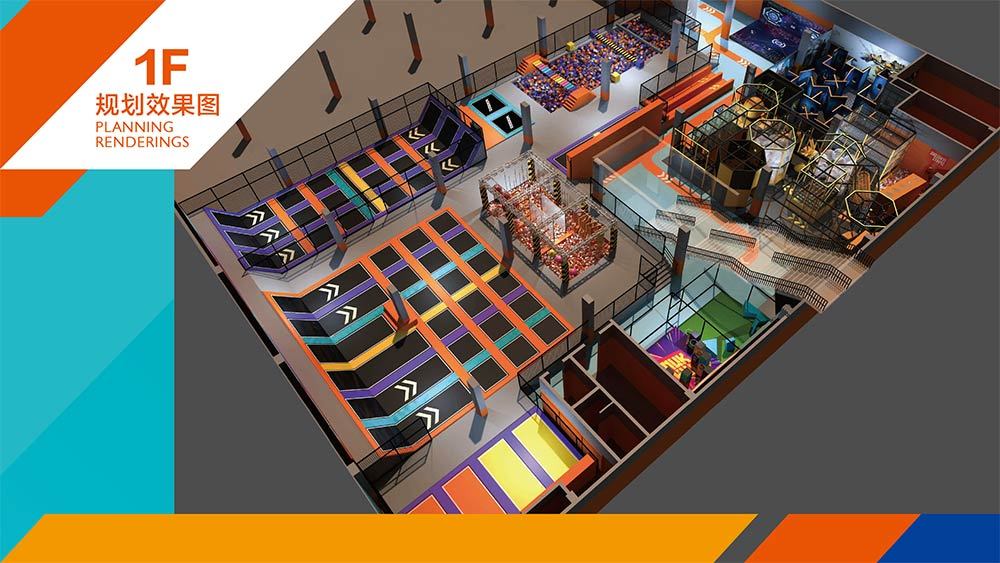 Keep in mind when designing a trampoline park
--Choose a suitable trampoline park manufacturer to offer you professional equipment design. Better if the manufacturer has bonus service like interior design.
--If you are planning for a small trampoline park, pay more attention to the creative concept and space utilization of your park.
--No matter how big or how small your trampoline park is, safety should always be the priority. Do not forget to take a look at some related standards to make sure the design can meet the standard and criteria.
--Take fire safety into consideration. Consult local authority about requirements, make sure the entrance and fire exits can meet the requirement.
--To differentiate from competitors and take the fun to the next level, the choice to trampoline park attractions is very important. Consider to add climbing walls, ropes course, slides, interactive modules or any other fun play equipment into your design.
--Be clear about the visitors route in your trampoline park, how visitors enter, disperse to different attractions, exit. A reasonable route will benefit the park operation.
--Don't forget to include ancillary facilities in your trampoline park design, like reception area, rest area, party rooms, and more.
And more.
When planning a trampoline park, take a little patience in discussing with designer for a good trampoline park design.
Related reading: