Pokiddo Trampoline Park in Ordos, China
Briefing on Ordos Pokiddo Trampoline Park
It is the first Pokiddo Trampoline Park in the Ordos City, Inner Mongolia. It is a 2000sqm2 park with a diversity of trampoline park attractions. When you get into the park, you are facing the reception area. On the right side is a small video arcade, while on the left side is the rest area, locker and shoe changing area. The play zone can be divided into three zones: kids playground, trampoline zone and adventure zone. The kids playground includes the main maze structure, a large ball pool and the rainbow net. In trampoline zone you will find the free jump zone, foam pit with swing bridge and battle beam, spider drop tower, foam pit with climbing wall, slam dunk zone, half pipe trampoline and a small dodgeball zone. The challenge zone is an area with attractions that can boost your adrenaline, including ninja course, crazy slide and zipline.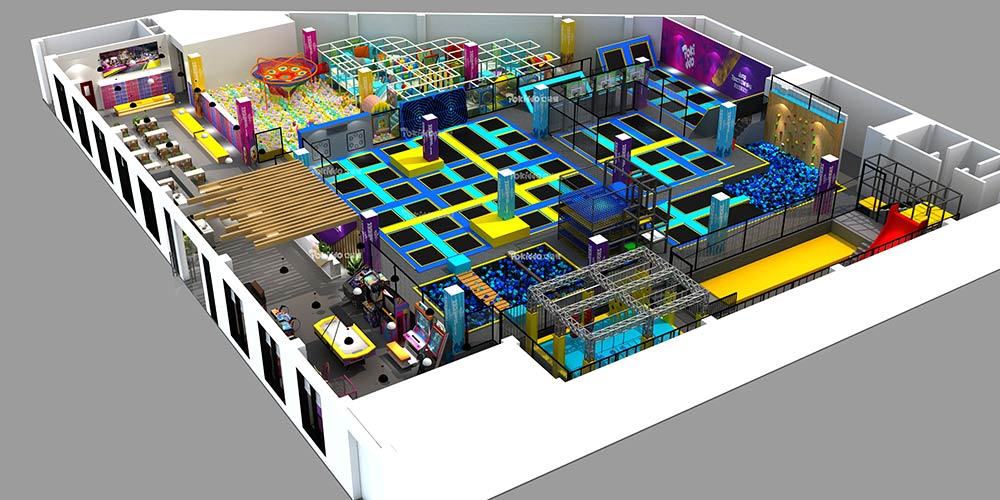 Investor's Cooperation Story with Pokiddo
Mr. Zhang is the investor of Ordos Pokiddo Trampoline Park, he is a businessman that pursues quality. At the beginning, Zhang went to Wenzhou for a business trip to another trampoline park manufacturer but ended to cooperate with us. He contacted us just to take a quick look at our company, and then he found Pokiddo was a much better choice for hime after inspecting the factory and our franchise trampoline parks in Wenzhou. Mr. Zhang quite approved our business mode and reached a cooperation right after we offering the layout plan proposal.