Pokiddo Independently Developed Trampoline Interactive Game
Recently, the trampoline interactive entertainment system V2.0 independently developed by Pokiddo was awarded the National Software Copyright Registration Certificate, and the registration number is: 3195612. This marks the substantial achievement of the
Pokiddo
play on the independent research and development of interactive trampoline games, and also represents a new level in the construction and protection of intellectual property of interactive projection equipment.
The interactive trampoline game will be the key application area for the combination of the future trampoline equipment and the advanced modern entertainment system. It will effectively solve the boring and monotony of trampoline exercise for a long time, expand the fun of trampoline exercise and the diversity of teaching methods, and use interactive technology. Virtually combine any game scene to realize human-computer interaction, enhance the playability and interactivity of the equipment, and enhance the comprehensive competitiveness of the park.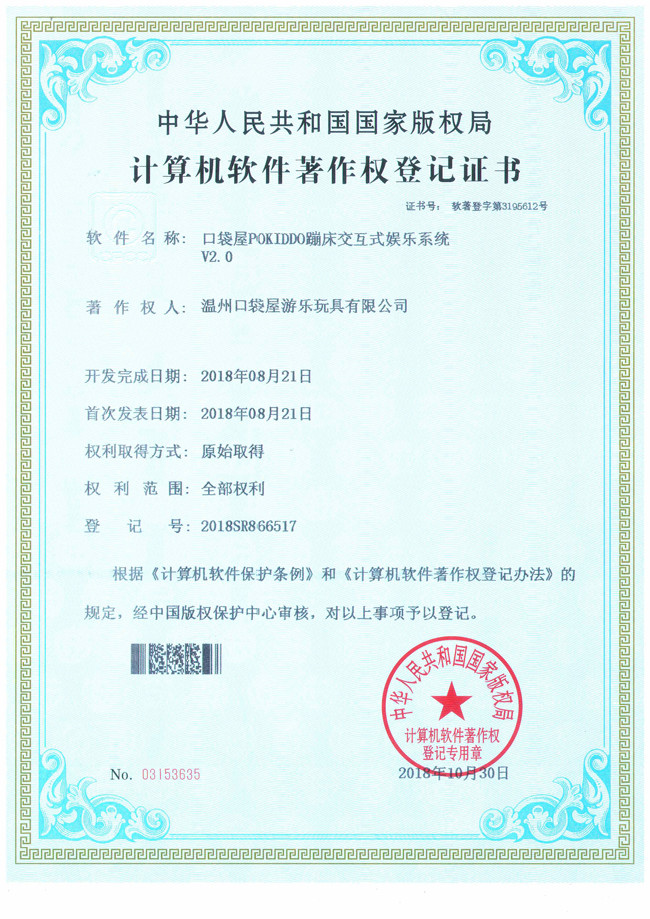 The copyright registration system completed by Wenzhou
Pokiddo
Amusement Toys Co., Ltd. is the trampoline interactive entertainment system V2.0. It is based on the
Pokiddo
IP image and is in a wonderful forest, opening a pleasant forest tour. The sensor of the interactive trampoline device collects the jumping height of the player, and uses the software algorithm to realize the fruit in the game to pick up the fruit of different heights. The game is like a live version of WeChat, which is very simple, not only fruit but also poisonous mushroom and Obstructed by rotten stumps, the scene is rich and fun.
It is reported that since its establishment,
Pokiddo
Amusement has always adhered to the road of innovation and development, responded to the call of the parent company's scientific and technological innovation, and increased investment in research and development. In organization management innovation, project management innovation, R&D technology innovation, operation and maintenance protection innovation, etc. The field has achieved important results. After years of development,
Pokiddo
Amusement has developed into a service provider that integrates children's parks, squatting parks and other venues including investment plans, site selection, park planning, product manufacturing and installation, and operational training.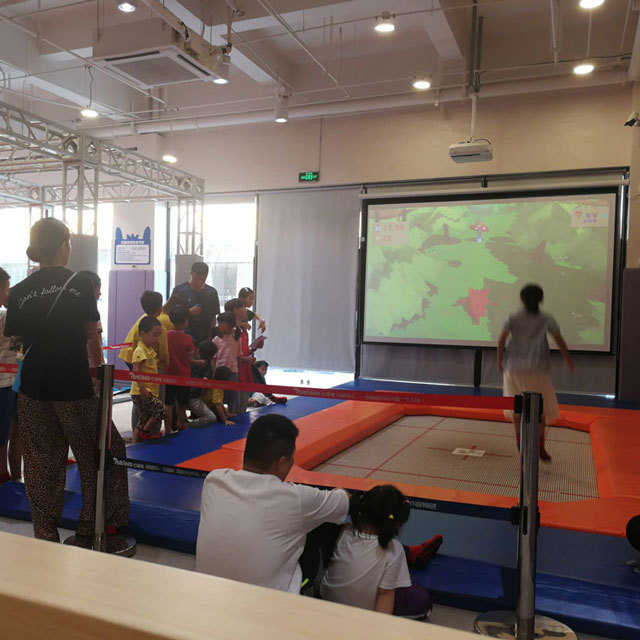 In addition to the traditional trampoline equipment and the production of children's paradise equipment, the transformation of the
Pokiddo
amusement has been upgraded to the paradise franchise brand. Based on the in-depth understanding and actual operation of the park, combined with the actual situation of the franchise customers, gradually join the field of trampoline parks and children's parks. A good reputation has been achieved. At present, the number of
Pokiddo
cooperation customers covers more than 300 domestic and more than 500 foreign countries. Henan
Pokiddo
has been officially opened, and Tianjin Beichen
Pokiddo
is about to open. In the future,
Pokiddo
will continue to uphold the principle of independent innovation, serve customers well, and bring quality products and services to our partners.