Pokiddo AP Sports Center in Wenzhou
With the improvement of people's living standards and the increasing emphasis on health, "sports economy" has gradually become a major selling point of shopping centers. Sports, entertainment and other industries are developing in a spurt, giving birth to a huge change in the traditional indoor park industry-sport park. The sports park/center integrates sports and entertainment to meet the needs of modern young people and it has higher requirements for park planning and design.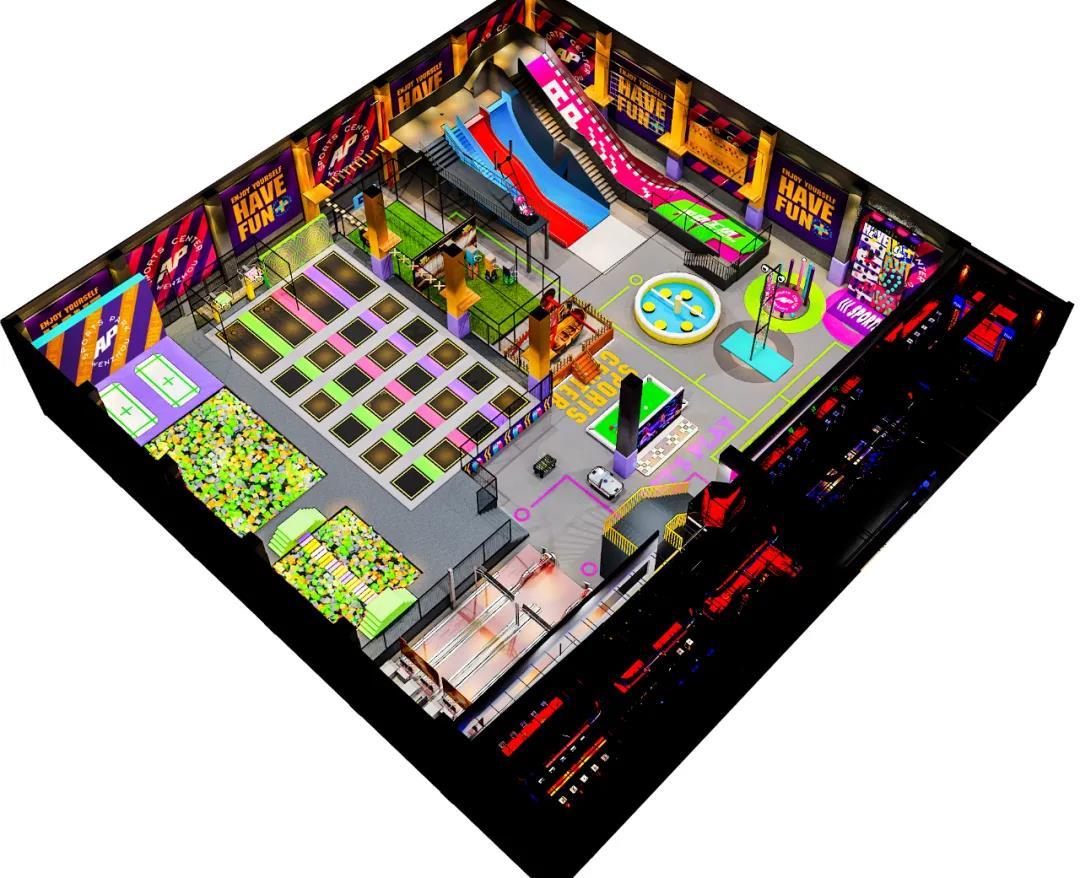 Wenzhou AP Sports Center Mifang Store, as a representative of practicing the concept of sports as the core development, is a youth social entertainment space integrating sports entertainment, sports competition, interactive technology, team building party, and more. It is a "sports park 3.0" .
[Project Overview]
Project Name: AP Sports Center
EPC Contractor: Wenzhou Pokiddo Amusement Toys Co., Ltd.
Project address: 4th Floor, Building F, Mifang Creative Zone, Wenzhou
Project area: 1800 square meters
Service items: business planning, park design, renovation and construction, equipment manufacturing and installation, operation and maintenance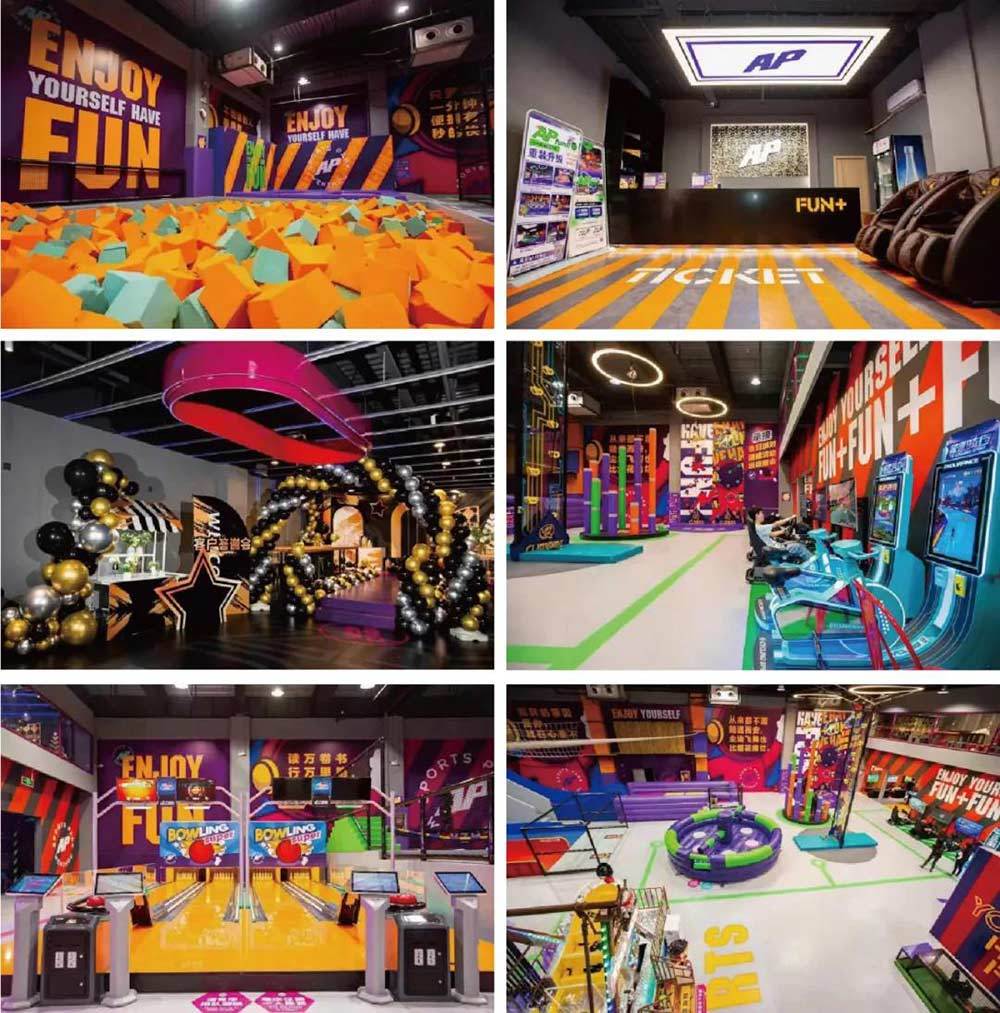 [Background of the project]
The predecessor of Wenzhou Mifang AP Sports Center was a trampoline theme park. It is reported that it was among the earliest trampoline parks to open in China. Miao Miao Le and Pokiddo jointly acquired the trampoline park at the end of 2018 and reopened after a new upgrade. During the operation period, the business was extremely hot. All investment costs had been paid back in 4 months, and it soon became the iconic venue of the entire creative zone and the most famous trampoline park in Wenzhou.
On November 13, 2021, AP Trampoline Park undergoes a second renovation and upgrade, and reopens with the brand-new "Sports Park 3.0" concept, providing an excellent case for domestic sports parks.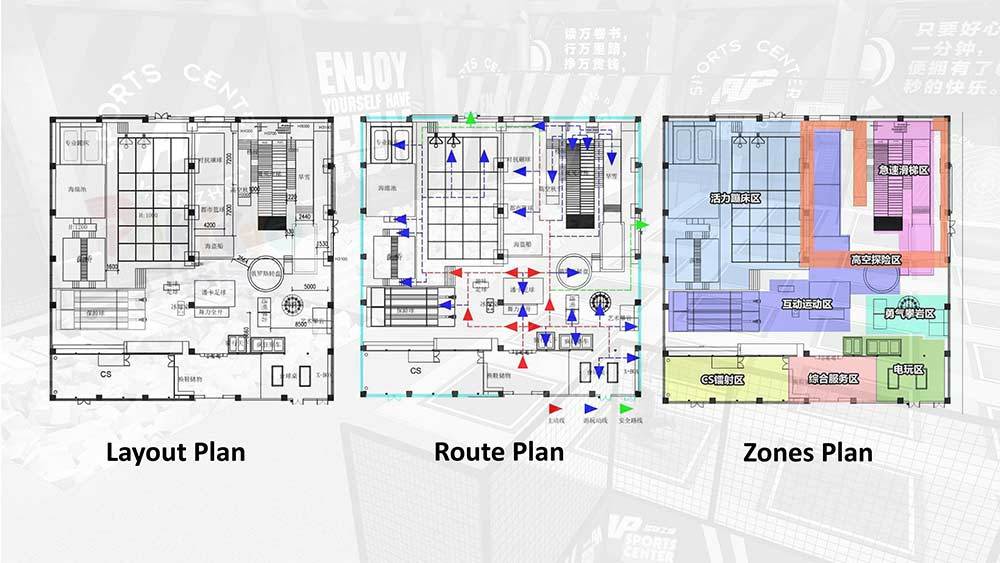 [AP Park Attractions]
The AP sports center has an overall planning area of nearly 2,000 square meters and a three-dimensional space with a height of 10 meters. The park is divided into 5 major functional areas, including sports, digital interaction, adventure, entertainment, and social. And it covers 24 sports and entertainment attractions, including 10 main projects including indoor donut slide, trampolines, themed rock climbing, devil slides, interactive basketball, simulated football, mini bowling, laser CS, stairway to the heaven, arcade racing cars, ropes course, interactive dancing etc. In addition, there are also programs like party, light bar, team building and more. The venue equipment is made by the well-known indoor park brand Pokiddo in China, and there are also imported equipment from France and the United States, which gathers many equipment suppliers at home and abroad.
Sports: trampoline, slam dunk, rock climbing, etc.
Digital Interaction: Just Dance, Laser CS, Arcade Car Racing, Interactive Football, Fighting Balls, etc.
Adventure: trapeze swing, donut slide, devil slide, stairway to the heaven, pirate ship, high-altitude ropes course, etc.
Entertainment experience (ENT): billiards, X-BOX games, ice hockey, bowling, bridge swing, Russian turntable, etc.
Social: party room, light bar, real CS, etc.
[AP Park Attractions]
The overall color design is a combination of orange, purple and red, which is the representative color of sports vitality. With the concept of "sports" as the core, it promotes healthy living, and uses bright and lively colors and wall textures to create a strong sports atmosphere.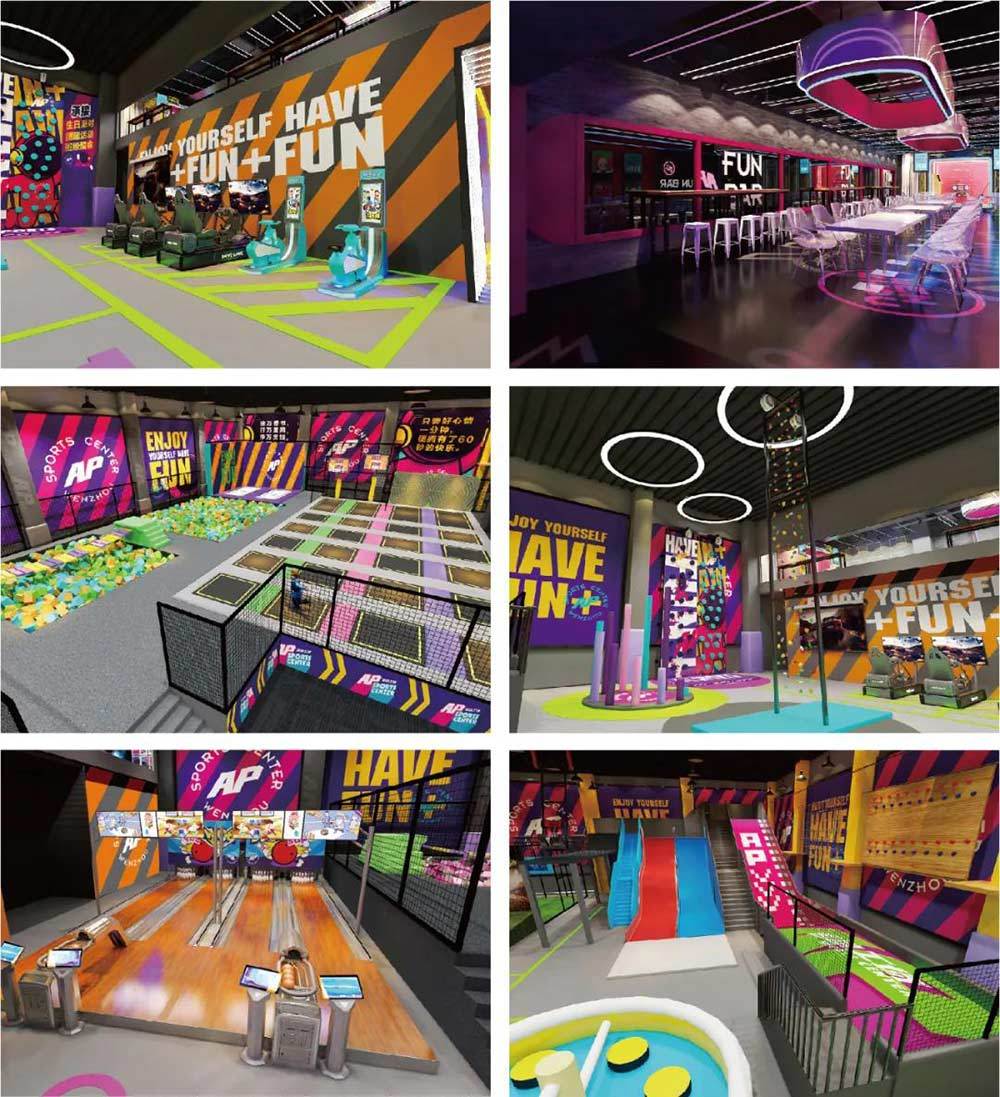 [AP Park Installation]
It took 35 days from the entry of the construction team to the completion of the project. During the process, the equipment installation team and the engineering construction team carried out the construction at the same time or staggered, and proceeded efficiently according to the task plan every day to ensure that the project opened on time. The Pokiddo engineering quality team supervised the whole process on site, followed industry safety standards, and checked each equipment installation detail one by one. The zip line and adapter mechanism used in the high-altitude expansion use the Koala series of French ALTUS company, all to ensure the product quality of the park and the safety of play.