Largest Pokiddo Magic Trampoline Park in Hangzhou
The Biggest Pokiddo Trampoline Park in Hangzhou
In September, 2019, Pokiddo Magic Trampoline Park opened in the Hangzhou, capital city of Zhejiang Province. It is a large (total venue size 9000sqm2) indoor amusement park that consists of various wonderful playground equipment. Here we have the park owner Mr. Chen and his team together to share the story of how this gigantic trampoline park was built.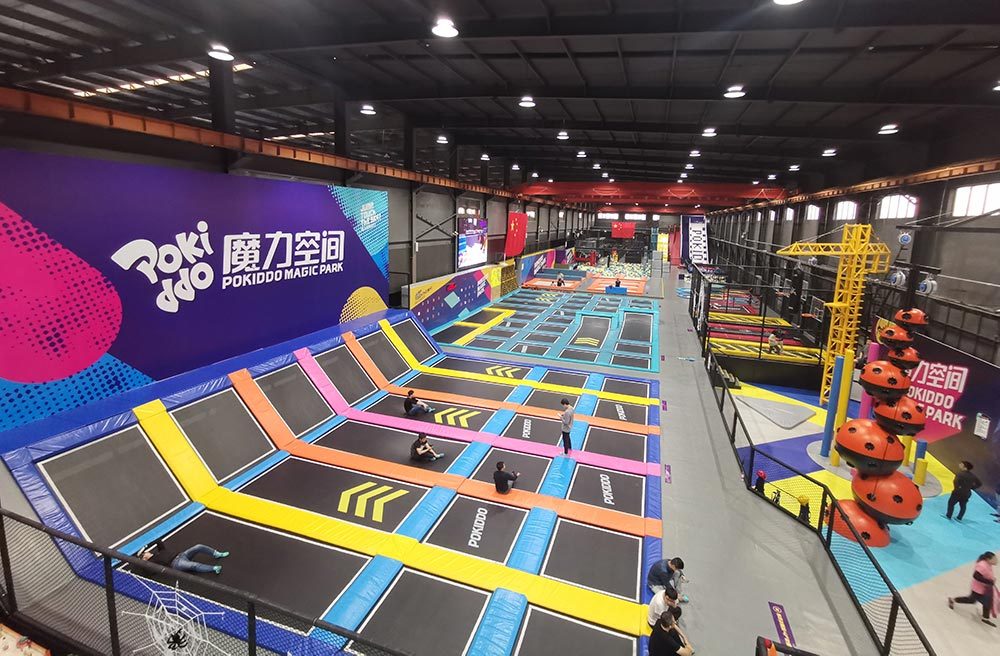 We're running two indoor playgrounds and some video game centers, so it's not our first try into the leisure industry. Actually we've accumulated more than ten years of experience in the procurement and operation of indoor playground equipment. We believe that the leisure industry is timeless, as no matter how old you are, look for fun and enjoy is like our nature. We're doing business that brings happiness and health to people. But there are different trends in the industry from time to time. The traditional indoor playgrounds no longer meet the needs of children and young people. We're also searching for different opportunities in the industry. That's why we turn to build a trampoline park themed indoor amusement park. Trampoline parks are getting quite popular in China in recent years. And the target customers of trampoline park are people of all ages, which is quite good for a success of our park. With our previous experience, once we catch the trend, the success of Pokiddo Magic Trampoline Park would not be a dream.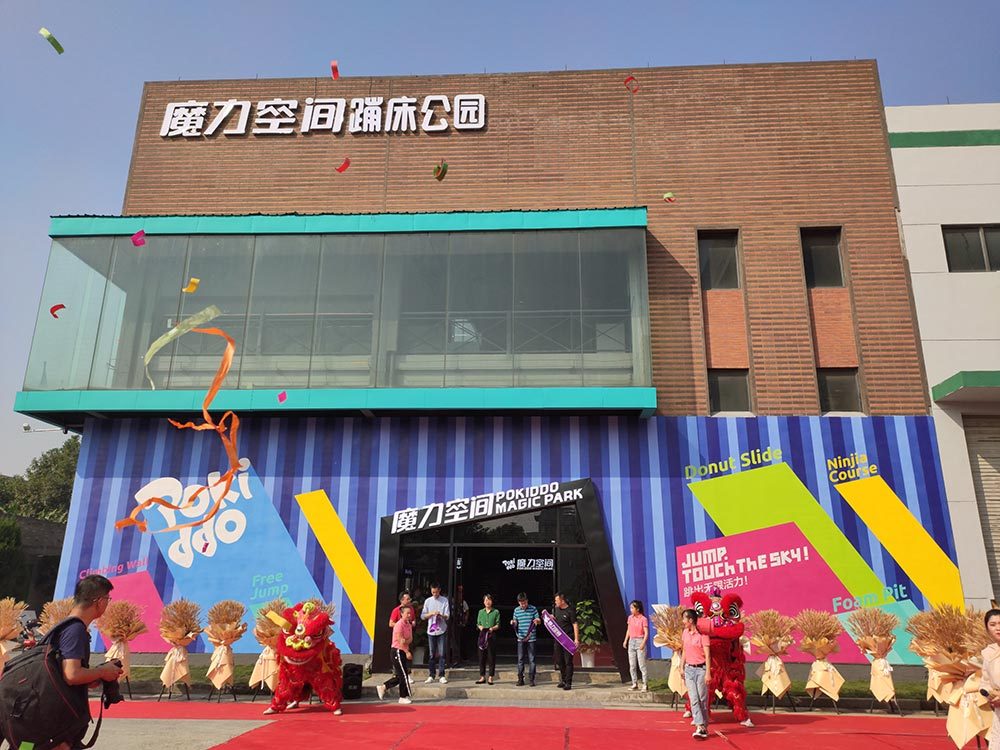 2. What Makes Future Sci-tech City the Perfect Location for the Pokiddo Magic Trampoline Park?
Pokiddo Magic Trampoline Park is located at No. 16 Longquan Road, Future Sci-tech City, Yuhang District, Hangzhou City, Zhejiang Province. It's adjacent to Hangzhou Xixi National Wetland Park and Zhejiang University, which represents a superior location with beautiful environment. The park will attracts families for trips while the university has lots of young people looking for fun activities. And the Hangzhou Future Sci-Tech City is an innovation and venture complex for global technology entrepreneurship. The development zone was a result of a district government partnership with Alibaba with the goal of creating an international innovation ecosystem for local entrepreneurs to grow businesses in. It's like China's Silicon Valley. We don't doubt that we would have good visitor flow in the location.
The Pokiddo Magic Trampoline Park is the 2nd high-end Pokiddo franchise park, right after the Pokiddo Kids Amusement in Wenzhou. To be honest, we were about to sign contract with another company. But then we know Pokiddo and were inspired by its concept and design. Pokiddo is not only a trampoline park builder but also has its own brand and operation experience. From the planning of trampoline equipment to the overall plan of the venue environment, from the preparations for the pre-construction period to personnel training to event planning, it's like 'love' at first sight after our meeting and deep discussion on our project. We both knew for sure that our cooperation would be a win-win. Pokiddo managed to build a fantastic indoor amusement park that integrates entertainment, fitness and sports to give children unforgettable play experience and to challenge teenagers and adults to get away from digital gadgets. We're proud of our collaboration with Pokiddo, of which we can surely say that we have created a new and unique concept together.
Pokiddo Magic tramopline park has so many popular attractions to offer in the park. In the main trampoline zone, you will find the free jump zone, slam dunk basketball, high performance trampoline, interactive tap fun, velcro wall, trampoline boxing, large foam pit with battle beam, swing bridge and roll beam, dodgeball zone, etc. In the climbing wall zone, it includes astroball climbing, sky stepper, jump tower, and art climbing walls, all with novel designs. In the adventure/challenge area, you can challenge the ninja course, the slides including donut slide, triple wave slide and crazy slide, zipline, spider drop tower, etc, all giving your adrenaline a boost. And there's also indoor football field, Kart Racing and CS laser, etc.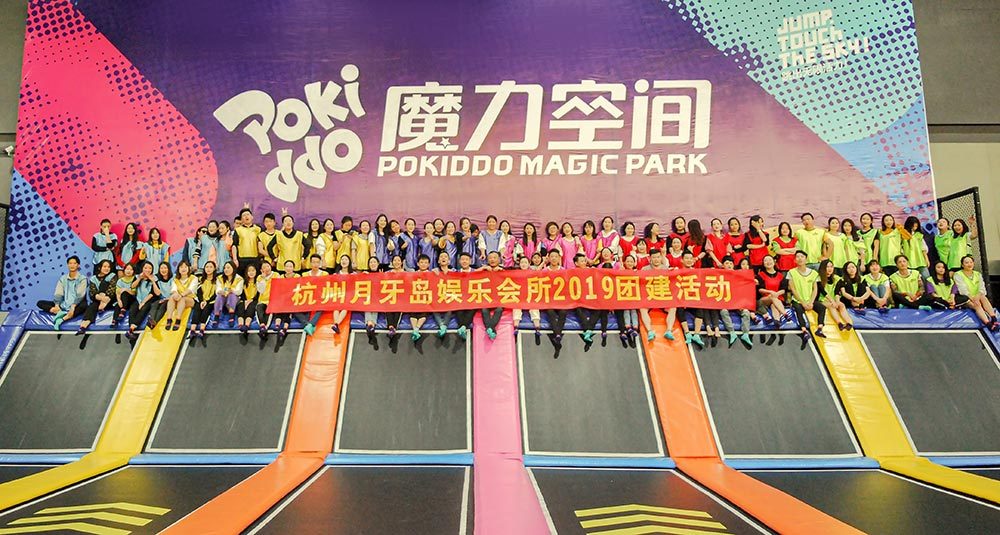 5. Why Visitors Choose Pokiddo Magic Trampoline Park?
Pokiddo Magic Trampoline Park can be called a paradise for sports enthusiasts. Visitors would love to come back because of all the eye-catching fun games. Parents can enjoy a break from a good cup of coffee or some snacks while knowing their kids are having great fun. Pokiddo Magic will hold different events to entertain customers. We have programs like birthday party and team-building to create unforgettable memories for families and companies. In holidays, we turned Pokiddo Magic into a great option for friends or family gathering.
We together with Pokiddo are dedicated to building parks where children, parents and young adults can play and relax, and making them more energetic and confident to face life.