How to Attract More Visitors to Your Trampoline Park?
When you plan to build a trampoline park, you would expect to attract a large number of visitors to your park so that you can reach a good revenue. No matter you've got any previous trampoline park or indoor amusement park operation experience, the 10 tips in this article will offer you some ideas for a successful trampoline park business.
1. Build Brand Awareness for your Trampoline Park
Brand awareness means to let your target customers know the brand name of your park. Before the grand opening of your trampoline, you can do preparation for brand awareness building, below we share three ideas for you.
1) Advertising for grand opening
Make sure your potential customers be informed about the grand opening of your trampoline park. For example, you can print posters and flyers, distribute in schools or residential communities, etc. Place ads in local newspapers, magazines, etc.
2) Create a good website and social media platforms
Website and social media are very good solution for trampoline park promotion. You can share pictures and videos to attract more visitors. And you can also sell tickets on the website.
3) Plan a grand opening event.
Do a detailed plan on what to do on the first day of your park. You can invite your friends, family members to attend the party. Offer some free coupons and encourage the visitors to share photos or videos on their social medias to let more people know about your park. Broaden your mind and create more ideas for attracting visitors.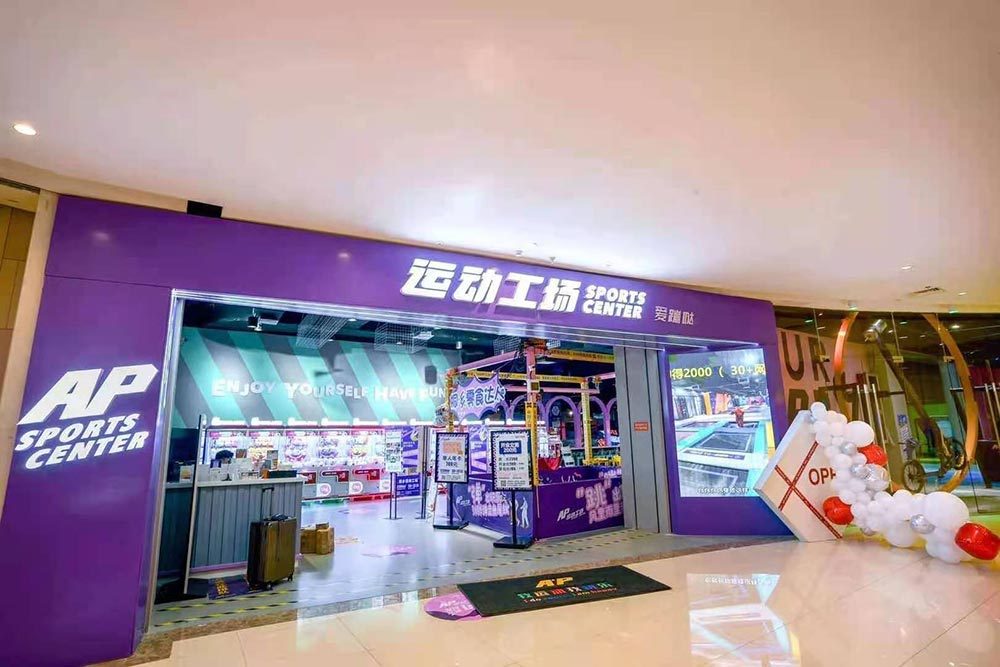 2. Create a Good Impression for First Visitors
First impression is very important. Make sure your park is well decorated and the attractions in your park are fun. Good first impression will create great comments and let visitors share your park with friends on their own initiative.
Safety is always the top priority for any parks. Make sure your park equipment is in good condition by daily inspection and maintenance. Make sure you have safety/security staff in each attraction area to guide the players how play. Any dangerous movements beyond ability are not allowed. Let customers sign disclaimer agreement to make sure they know the risk of dangerous movements. For more safety tips, feel free to contact us.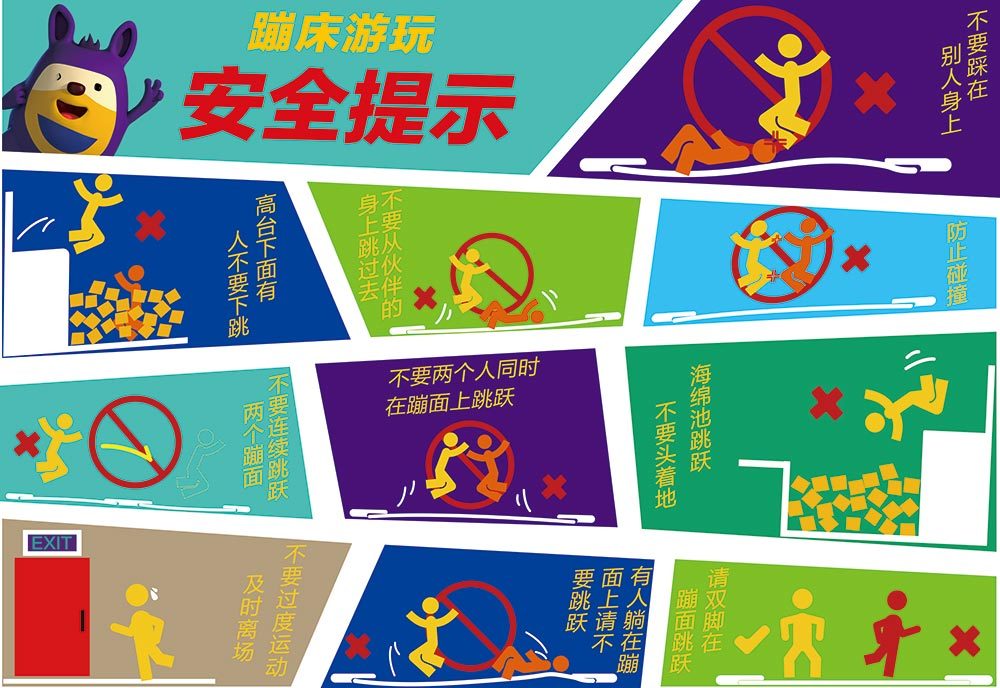 4. Friendly and Well-trained Staff
Staff is the key to a good service in your trampoline park. Make sure your staff are well-trained. It will make really good impression when customers receive friendly welcome in your park. Imagine when your needs are always fulfilled, what a fantastic experience it would be.
5. Seating Area for Guardians
In most situation, the parents or guardians would rather choose to take a break to enjoy coffee or snacks while their children are having fun in trampoline park. A good rest area with wifi and good service would let your park stand out and be their top choice.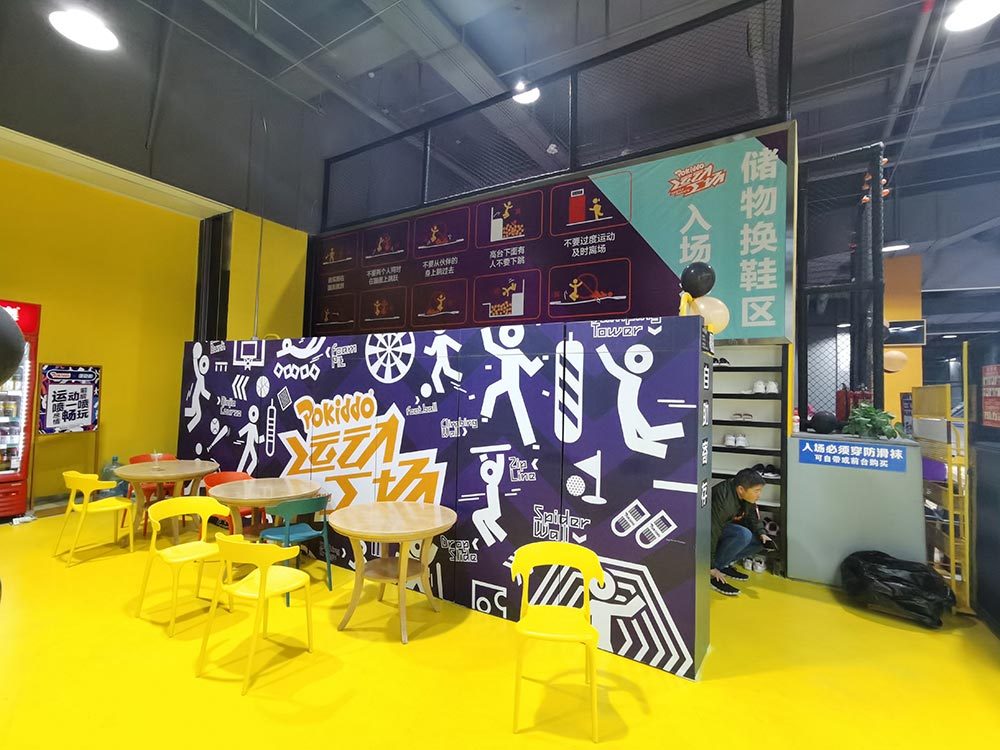 6. Offering Member Cards
Encourage your customers to have member card. You member card can be 10 passes member card or whole year pass member card. As there would be discount for member card, the nearby customers would love to have it. If you sell lots of member card, your visitors flow of your park would not be bad.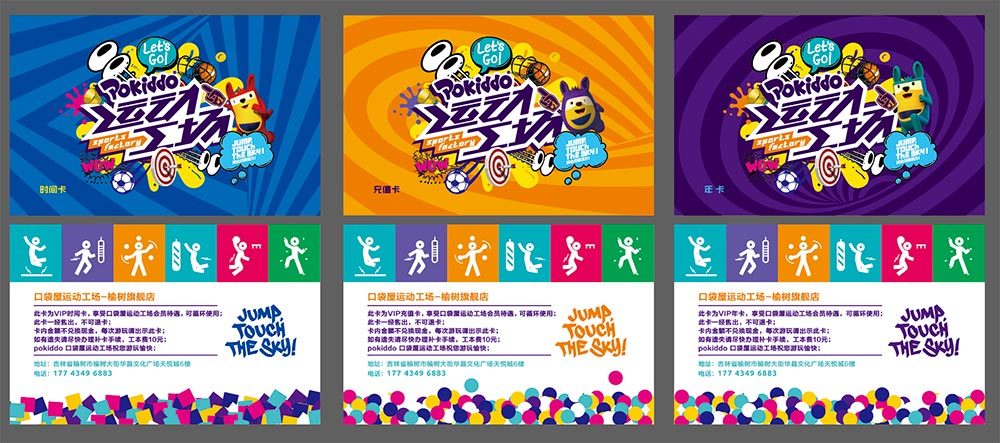 Pokiddo Member Card Graphic Design
7. Offering Gift Coupons
Offering gift coupons is a great way to encourage players to come again. You can set some rules on how to get the coupons. For example, they can get one once they share pictures on ins or facebook, etc. It's a great advertising strategy.
8. Planning Events and Parties
Get your team to work out events plans, especially on holidays. For example, do a cosplay party on the Halloween night. Birthday parties would be a great part of park revenue. Kids love to enjoy parties with friends in a trampoline park.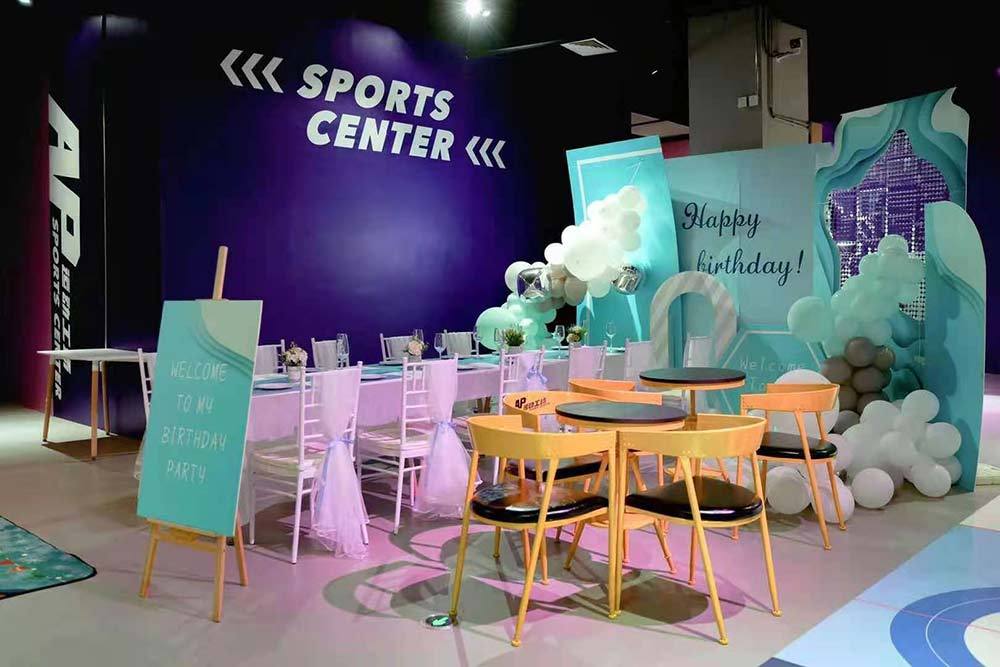 9. User-Friendly Ticketing System and POS System
You will find ticket selling on trampoline park website, make sure it's easy for customers to buy online. The POS system in your park is also important, it will help your customers get into the park quickly so they don't need to wait for a long time.
10. Cooperation with Related Brands
Once you've built brand awareness, you can consider to cooperate with other brands (not in the same industry but with same potential customers), for example local education brands. You can cooperate and advertise for each other.